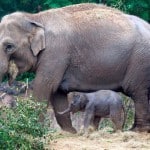 Dublin Zoo announced the birth of the third Asian elephant calf born in Dublin Zoo this summer. The healthy female calf was born on the 17th of September just before midnight. Weighing 68kg, which is the weight of an average human woman. The calf's mother Bernhardine, is the oldest female and the matriarch of the herd. She is an experienced mother as this was her fourth calf.
The Assistant Director of the zoo, Paul O'Donoghue said "the birth was very calm and quick and the new calf was standing within ten minutes".
This is the third newborn Asian elephant in ten weeks, Kavi was born in July and Ashoka who was born in August.
With the multiple births, Dublin Zoo, Dublin City Council and the National Confectionery Company have been prompted to rename October "Month of the Elephant".
The newborn calf has still not been named, Dublin Zoo have decided to have a naming competition held on their Facebook page where people can get involved to help choose a name for the girl.
Animal lovers can watch Bernhardine and her herd on the elephant webcam at www.dublinzoo.ie and also see daily updates on how the the calf is coming along.